Kystverket AIS data using OpenCPN, ncat, gpsd, and jq
Access to AIS data | Kystverket
AIS data are also available at the following IP address: 153.44.253.27 port 5631
We use the following tools. We use nc (netcat) and ncat because (a) I've never used either, and (b) to see that ncat gives the same results as nc.
5.5. Selecting Values | Guide to Linux jq Command for JSON Processing. Last updated: April 22, 2023. Written by: Jonathan Cook | Baeldung
---
First, we view the AIS data from 153.44.253.27 port 5631 using OpenCPN.
OpenCPN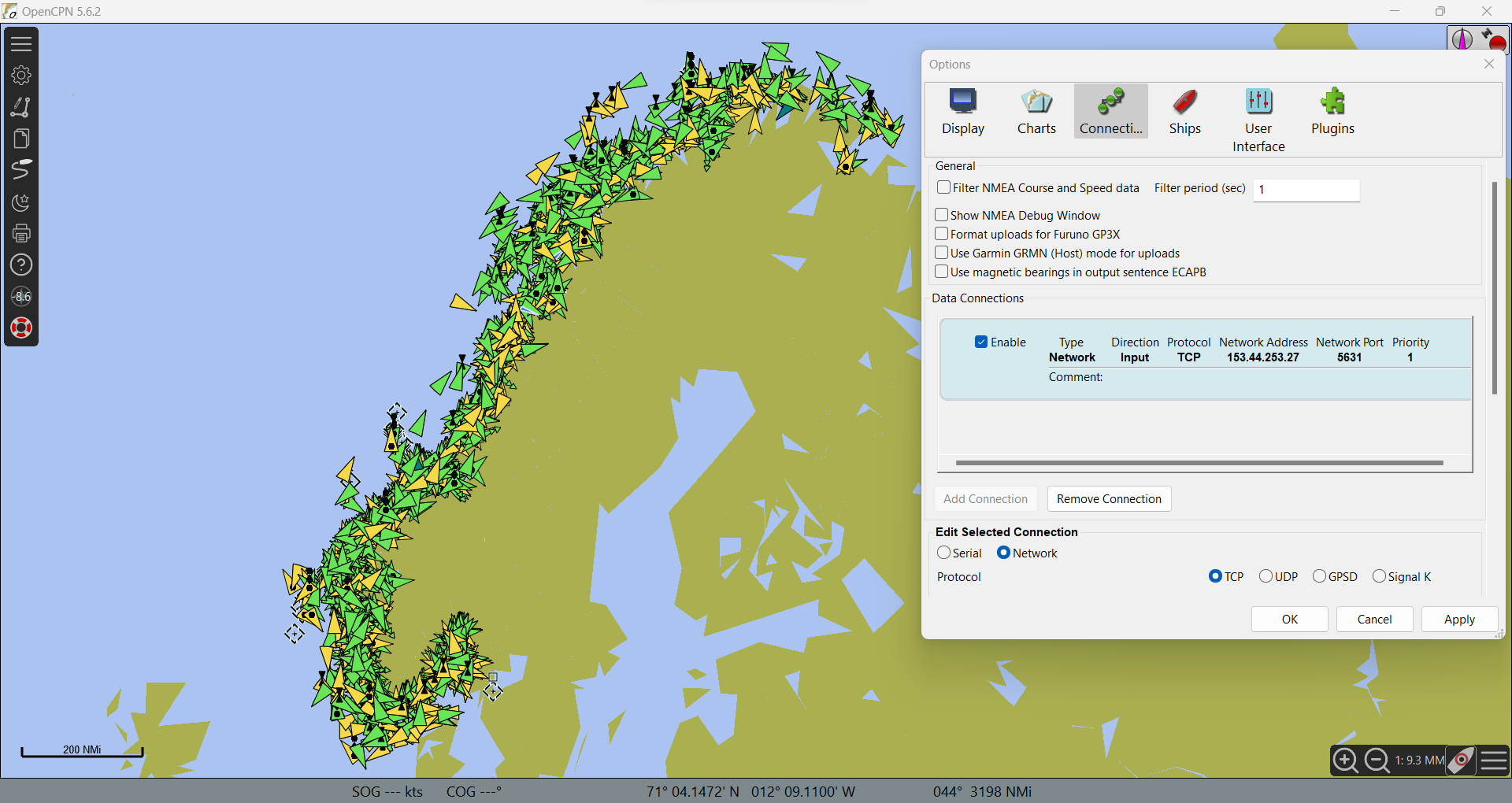 nc
timeout 

1s nc 153.44.253.27 5631 

>

 nc_1s

\s:2573345,c:1682294942*00\!BSVDM,1,1,,B,13mo2<?P05Pm<5rU<oBFGgv62@28,0*04
\s:2573238,c:1682294943*0A\!BSVDM,1,1,,B,H3m8KH0dpn0PUA8400000000000,2*11
\s:2573315,c:1682294943*04\!BSVDM,1,1,,B,33mD6a5000PSIMdT7Af8oUH60En:,0*3D
\s:2573335,c:1682294943*06\!BSVDM,1,1,,A,B3m:0KP008:2pF96iUcQ3wQQnD`b,0*59
\s:2573455,c:1682294943*07\!BSVDM,1,1,,A,39NWvhQ0011?ebjW;KiJ:TOl0000,0*78
\s:2573010,c:1682294943*02\!BSVDM,1,1,,A,33m;7@50P0PHDnvRSn7G4V662DhJ,0*16
\s:2573135,c:1682294943*04\!BSVDM,1,1,,B,13n3l5?P00PTiSdQAPOv4?v62@2D,0*39
\s:2573535,c:1682294943*00\!BSVDM,1,1,,A,33n05650001Ffv2Wmn255Q660DP:,0*1B
\s:2573565,c:1682294943*05\!BSVDM,1,1,,A,13mQ>O70001e0v0`MqKut9d800RC,0*37
\s:2573345,c:1682294942*00\!BSVDM,2,1,6,B,53m>jk800000hOCK?81LThhTd0000000000000160`942t00000000000000,0*48
\s:2573345,c:1682294942*00\!BSVDM,2,2,6,B,00000000000,2*38
\s:2573305,c:1682294943*05\!BSVDM,2,1,7,B,53mTON82F9nThHMV220MDpp5:0h4pMH62222220N50R786mc;D0@C1DmCQ88,0*03
\s:2573305,c:1682294943*05\!BSVDM,2,2,7,B,88888888880,2*39
\s:2573225,c:1682294944*01\!BSVDM,2,1,8,B,53mBCJ81gcR0aP5<0008:0hTI@E800000000000l0pc5759@07Tm0EPCQiDP,0*7F
\s:2573225,c:1682294944*01\!BSVDM,2,2,8,B,00000000000,2*36
\s:2573545,c:1682294944*00\!BSVDM,1,1,,A,13n53M00001P2kN`4iFPqJL60@2F,0*00
\s:2573145,c:1682294944*04\!BSVDM,2,1,5,B,53n7B282>=S4hIE:220DpE8MV1=L4r222222221J315:95;DN>jCTl2DQD`8,0*2E
\s:2573145,c:1682294944*04\!BSVDM,2,2,5,B,88888888880,2*3B
!BSVDM,1,1,,B,13o4Wl00000J:blQi8IsgWJP0@9P,0*19
\s:2573315,c:1682294944*03\!BSVDM,1,1,,A,H3n21e04pMHTd00000000000000,2*0F
\s:2573593,c:1682294944*0B\!BSVDM,1,1,,A,B>1VPd@04pSm8E:4Mcu8Cwv0RJGT,0*73

cat 

nc_1s | gpsdecode 

>

 nc_gpsd_1s

{

"class"

:

"AIS"

,

"device"

:

"stdin"

,

"type"

:

1

,

"repeat"

:

0

,

"mmsi"

:

257802800

,

"scaled"

:

true

,

"status"

:

15

,

"status_text"

:

"Not defined"

,

"turn"

:

"nan"

,

"speed"

:

0.5

,

"accuracy"

:

true

,

"lon"

:

11.619302

,

"lat"

:

65.013455

,

"course"

:

163.0

,

"heading"

:

511

,

"second"

:

3

,

"maneuver"

:

0

,

"raim"

:

true

,

"radio"

:

65672

}



jq 

--slurp

 

'.'

 nc_gpsd_1s 

>

 nc_gpsd_jq_1s.json

jq 

'.[0]'

 nc_gpsd_jq_1s.json

{


  

"class"

:

 

"AIS"

,


  

"device"

:

 

"stdin"

,


  

"type"

:

 

1

,


  

"repeat"

:

 

0

,


  

"mmsi"

:

 

257802800

,


  

"scaled"

:

 

true

,


  

"status"

:

 

15

,


  

"status_text"

:

 

"Not defined"

,


  

"turn"

:

 

"nan"

,


  

"speed"

:

 

0.5

,


  

"accuracy"

:

 

true

,


  

"lon"

:

 

11.619302

,


  

"lat"

:

 

65.013455

,


  

"course"

:

 

163

,


  

"heading"

:

 

511

,


  

"second"

:

 

3

,


  

"maneuver"

:

 

0

,


  

"raim"

:

 

true

,


  

"radio"

:

 

65672




}



---
timeout 

60s nc 153.44.253.27 5631 

>

 nc_60s

cat 

nc_60s | gpsdecode 

>

 nc_gpsd_60s

{

"class"

:

"AIS"

,

"device"

:

"stdin"

,

"type"

:

1

,

"repeat"

:

0

,

"mmsi"

:

259707000

,

"scaled"

:

true

,

"status"

:

0

,

"status_text"

:

"Under way using engine"

,

"turn"

:

0

,

"speed"

:

2.3

,

"accuracy"

:

false

,

"lon"

:

19.028200

,

"lat"

:

69.694137

,

"course"

:

215.6

,

"heading"

:

220

,

"second"

:

1

,

"maneuver"

:

0

,

"raim"

:

false

,

"radio"

:

49235

}



jq 

--slurp

 

'.'

 nc_gpsd_60s 

>

 nc_gpsd_jq_60s.json

jq 

'.[0]'

 nc_gpsd_jq_60s.json

{


  

"class"

:

 

"AIS"

,


  

"device"

:

 

"stdin"

,


  

"type"

:

 

1

,


  

"repeat"

:

 

0

,


  

"mmsi"

:

 

259707000

,


  

"scaled"

:

 

true

,


  

"status"

:

 

0

,


  

"status_text"

:

 

"Under way using engine"

,


  

"turn"

:

 

0

,


  

"speed"

:

 

2.3

,


  

"accuracy"

:

 

false

,


  

"lon"

:

 

19.0282

,


  

"lat"

:

 

69.694137

,


  

"course"

:

 

215.6

,


  

"heading"

:

 

220

,


  

"second"

:

 

1

,


  

"maneuver"

:

 

0

,


  

"raim"

:

 

false

,


  

"radio"

:

 

49235




}



---
timeout 

1080s nc 153.44.253.27 5631 

>

 nc_1080s_UTC_2023_04_25_16_07

cat 

nc_1080s_UTC_2023_04_25_16_07 | gpsdecode | jq 

--slurp

 

'.'

 

>

 nc_1080s_UTC_2023_04_25_16_07.json

jq 

'.[0]'

 nc_1080s_UTC_2023_04_25_16_07.json

{


  

"class"

:

 

"AIS"

,


  

"device"

:

 

"stdin"

,


  

"type"

:

 

5

,


  

"repeat"

:

 

0

,


  

"mmsi"

:

 

257595600

,


  

"scaled"

:

 

true

,


  

"imo"

:

 

9321378

,


  

"ais_version"

:

 

2

,


  

"callsign"

:

 

"LMOV"

,


  

"shipname"

:

 

"ODANE"

,


  

"shiptype"

:

 

30

,


  

"shiptype_text"

:

 

"Fishing"

,


  

"to_bow"

:

 

10

,


  

"to_stern"

:

 

18

,


  

"to_port"

:

 

5

,


  

"to_starboard"

:

 

3

,


  

"epfd"

:

 

0

,


  

"epfd_text"

:

 

"Undefined"

,


  

"eta"

:

 

"01-01T00:00Z"

,


  

"draught"

:

 

5

,


  

"destination"

:

 

"48300615"

,


  

"dte"

:

 

0




}



---
timeout 

3600s nc 153.44.253.27 5631 

>

 nc_3600s

cat 

nc_3600s | gpsdecode 

>

 nc_gpsd_3600s

jq 

--slurp

 

'.'

 nc_gpsd_3600s 

>

 nc_gpsd_jq_3600s.json

jq 

'.[0]'

 nc_gpsd_jq_3600s.json

{


  

"class"

:

 

"AIS"

,


  

"device"

:

 

"stdin"

,


  

"type"

:

 

1

,


  

"repeat"

:

 

0

,


  

"mmsi"

:

 

257027750

,


  

"scaled"

:

 

true

,


  

"status"

:

 

0

,


  

"status_text"

:

 

"Under way using engine"

,


  

"turn"

:

 

0

,


  

"speed"

:

 

0

,


  

"accuracy"

:

 

false

,


  

"lon"

:

 

11.220803

,


  

"lat"

:

 

64.838193

,


  

"course"

:

 

360

,


  

"heading"

:

 

347

,


  

"second"

:

 

40

,


  

"maneuver"

:

 

0

,


  

"raim"

:

 

false

,


  

"radio"

:

 

49214




}



47M     nc_gpsd_jq_3600s.json

ncat
timeout 

1s ncat 153.44.253.27 5631 

>

 ncat_1s

\s:2573565,c:1682368277*0B\!BSVDM,1,1,,A,13n4g@g0001dFQr`Je;DeFVR08:Q,0*53
\s:STX995357575156,c:1682368277*60\!BSVDM,1,1,,A,33oaO<5000PG1J0S?r>;T2hR0E:r,0*61
\s:2573145,c:1682368278*02\!BSVDM,1,1,,A,34`Iv81P000NPc>QEPPdiwwp8m0J,0*0B
\s:2573243,c:1682368278*07\!BSVDM,1,1,,B,33n4PTUP@00F8kRRtW0l5WPN0E::,0*44
\s:2573335,c:1682368278*07\!BSVDM,2,1,9,B,53mLcN800000hI0V221<<4p8Tv0@59B22222221@70:644rdR;ARDj1PDSDp,0*5A
\s:2573335,c:1682368278*07\!BSVDM,2,2,9,B,88888888880,2*37
\s:2573325,c:1682368278*06\!BSVDM,1,1,,B,B3m=cPP000;q2Ua4hO7Q3w`QjFgb,0*2B
\s:2573135,c:1682368278*05\!BSVDM,1,1,,A,B>1Vuph02p9AkI8CWiHCSwv0RJGT,0*46
\s:2573405,c:1682368278*03\!BSVDM,2,1,9,B,53n3Rn`2FwTPhL=4001=@tdd4H`u8@000000000t4Pd864rdR8m2Sm50KASl,0*51
\s:2573405,c:1682368278*03\!BSVDM,2,2,9,B,URBp5;lP000,2*30
\s:2573305,c:1682368278*04\!BSVDM,1,1,,A,13m=Rf00000Lnd>ShL`LJ`4P08:a,0*57
\s:2573565,c:1682368278*04\!BSVDM,1,1,,B,B3m;M8000PK33e:6`3qgOw`UoP06,0*5D
\s:2573315,c:1682368278*05\!BSVDM,1,1,,A,33mWRj50000SQhFT7FUI:QFT0E1:,0*1A
\s:2573210,c:1682368278*01\!BSVDM,1,1,,A,33mEd=5P00PJDi@QfgOv4?vT0JRh,0*5C
\s:2573405,c:1682368278*03\!BSVDM,1,1,,B,13mwdO0P000n;vtU?Qe>4?vT0<0G,0*3A
\s:2573424,c:1682368278*00\!BSVDM,1,1,,B,H3m7Cb0I8tdp400000000000000,2*2B
\s:2573515,c:1682368278*03\!BSVDM,1,1,,A,13n056002510BVLWPM4:I`LT06Qt,0*68
\s:2573345,c:1682368278*00\!BSVDM,1,1,,B,EhHPVa14:VbV2WJ0000000000000J1eeBU8sp00003`P00,4*2C
\s:2573575,c:1682368278*05\!BSVDM,1,1,,B,13m6VU0000Qnq;r`WGu0v5j200Rv,0*6B
\s:2573315,c:1682368278*05\!BSVDM,1,1,,A,13m8WGPOi@PROF`T7?R1dQVP0L18,0*5C

---
timeout 

3600s ncat 153.44.253.27 5631 

>

 ncat_3600s

cat 

ncat_3600s | gpsdecode 

>

 ncat_gpsd_3600s

jq 

--slurp

 

'.'

 ncat_gpsd_3600s 

>

 ncat_gpsd_jq_3600s.json

jq 

'.[0]'

 ncat_gpsd_jq_3600s.json

{


  

"class"

:

 

"AIS"

,


  

"device"

:

 

"stdin"

,


  

"type"

:

 

18

,


  

"repeat"

:

 

0

,


  

"mmsi"

:

 

257732900

,


  

"scaled"

:

 

true

,


  

"reserved"

:

 

0

,


  

"speed"

:

 

0.1

,


  

"accuracy"

:

 

false

,


  

"lon"

:

 

6.630712

,


  

"lat"

:

 

58.227287

,


  

"course"

:

 

319.3

,


  

"heading"

:

 

511

,


  

"second"

:

 

31

,


  

"regional"

:

 

0

,


  

"cs"

:

 

true

,


  

"display"

:

 

false

,


  

"dsc"

:

 

true

,


  

"band"

:

 

true

,


  

"msg22"

:

 

true

,


  

"raim"

:

 

true

,


  

"radio"

:

 

917510




}



4.5M    ncat_3600s_UTC_2023_04_24_20_25.json

47M     ncat_gpsd_jq_3600s.json

---
timeout 

3600s ncat 153.44.253.27 5631 

>

 ncat_3600s_UTC_2023_04_24_20_25

cat 

ncat_3600s_UTC_2023_04_24_20_25 | gpsdecode | jq 

--slurp

 

'.'

 

>

 ncat_3600s_UTC_2023_04_24_20_25.json

jq 

'.[0]'

 ncat_3600s_UTC_2023_04_24_20_25.json

{


  

"class"

:

 

"AIS"

,


  

"device"

:

 

"stdin"

,


  

"type"

:

 

21

,


  

"repeat"

:

 

0

,


  

"mmsi"

:

 

992581021

,


  

"scaled"

:

 

true

,


  

"aid_type"

:

 

3

,


  

"aid_type_text"

:

 

"Fixed offshore structure"

,


  

"name"

:

 

"HYWIND TAMPEN HY04"

,


  

"lon"

:

 

5.067205

,


  

"lat"

:

 

60.829205

,


  

"accuracy"

:

 

false

,


  

"to_bow"

:

 

0

,


  

"to_stern"

:

 

0

,


  

"to_port"

:

 

0

,


  

"to_starboard"

:

 

0

,


  

"epfd"

:

 

1

,


  

"epfd_text"

:

 

"GPS"

,


  

"second"

:

 

53

,


  

"regional"

:

 

0

,


  

"off_position"

:

 

false

,


  

"raim"

:

 

false

,


  

"virtual_aid"

:

 

true




}



4.5M    ncat_3600s_UTC_2023_04_24_20_25.json

---
timeout 

21600s ncat 153.44.253.27 5631 

>

 ncat_21600s

cat 

ncat_21600s | gpsdecode 

>

 ncat_gpsd_21600s

jq 

--slurp

 

'.'

 ncat_gpsd_21600s 

>

 ncat_gpsd_jq_21600s.json

jq 

'.[0]'

 ncat_gpsd_jq_21600s.json

{


  

"class"

:

 

"AIS"

,


  

"device"

:

 

"stdin"

,


  

"type"

:

 

5

,


  

"repeat"

:

 

0

,


  

"mmsi"

:

 

257080750

,


  

"scaled"

:

 

true

,


  

"imo"

:

 

9664433

,


  

"ais_version"

:

 

0

,


  

"callsign"

:

 

"LGMC"

,


  

"shipname"

:

 

"EIDSVAAG OPAL"

,


  

"shiptype"

:

 

90

,


  

"shiptype_text"

:

 

"Other Type - all ships of this type"

,


  

"to_bow"

:

 

21

,


  

"to_stern"

:

 

64

,


  

"to_port"

:

 

9

,


  

"to_starboard"

:

 

9

,


  

"epfd"

:

 

1

,


  

"epfd_text"

:

 

"GPS"

,


  

"eta"

:

 

"04-21T02:45Z"

,


  

"draught"

:

 

4.8

,


  

"destination"

:

 

"FISHFARMS"

,


  

"dte"

:

 

0




}



142M    ncat_gpsd_jq_21600s.json